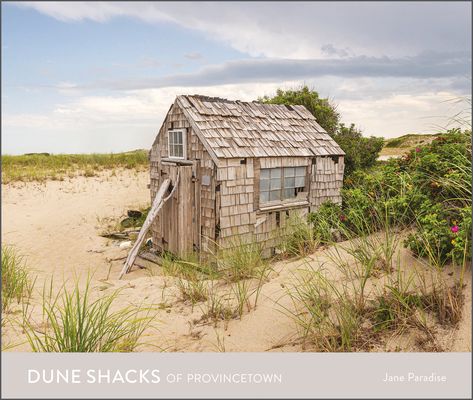 My book is now available!
for signed copies email me at jane@janeparadise.com
otherwise they are available wherever you buy your books
Forward written by Michael Mailer
Review by John D'Addario in the Provincetown Independent:
Review by Heather McCarron in the Cape Cod Times:
Review by Elin Spring in What Will You Remember:
Publisher: Schiffer Endsleeves: Mark Adams Creative Director and Editor: Joanne Dugan
-
"As an ideal antidote to the noise of our age, Jane Paradise, has composed a vibrant photographic poem celebrating the starkly beautiful hush of life at land's end."
- David W. Dunlap, Building Provincetown
-
Solo exhibition: Dune Shacks of Provincetown
Cape Cod Museum of Art
May 3 - July 30
Gallery Walk-Through May 4, 4-5pm
Opening May 4, 5-7pm
Presentation and Book Signing June 22, 2pm
Curated by Sam Tager, Independent Curator
60 Hope Land | Dennis, MA 02638 | 508-385-4477 | www.ccmoa.org
-
Solo exhibition: Dune Shacks of Provincetown
Provincetown Arts Society
May 8 - May 22
Please come celebrate with me with free food and libations!
May 13, 5-7pm
Book Release and Photography Exhibit
Cocktails & Hors d'oeuvres
Chef Greg Thomas - House Mixologist Matt Berry
All proceeds to benefit Provincetown Art Association and Museum
Curated by Gene Tartaglia
Mary Heaton Vorse House | 466 Commercial Street | Provincetown, MA 02657
-
I am curating an exhibition with Mike Wright:
Provincetown Art Association and Museum
April 14 - June 4
460 Commercial Street | Provincetown, MA 02657 | 508-487-1750 | www.paam.org
-
Solo exhibition: The Swimmers
Alden Gallery
September 15 - September 28
Reception September 15, 7-9 pm
423 Commercial St | Provincetown, MA 02657 | www.aldengallery.com
.
In recent news:
I received Honorable Mention in the 19th Annual International Pollux Awards
in two categories: Architecture for Dune Shacks and Portrait for My Husband has Alzheimer's
-
Ongoing Instagram project:
Just like millions of other men and women in the world, Frank was diagnosed with Alzheimer's in 2011. Photographs and snippets of conversation documenting our personal journey bring awareness to the disease. This is my way of navigating these changes while being with Frank at the same time. Also a way of sharing the journey with the wider world.
-
Photographs available for purchase at Galatea Fine Arts ARTSY