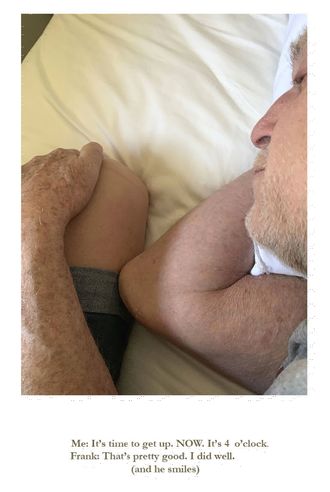 a new series of photographs:
My husband Frank has Alzheimer's - just like millions of other men and women in the world. He was diagnosed in 2011. I say we're 9 years into this disease because both of our lives are drastically affected. But we're lucky. Frank is aware, physically fit, funny, recognized close friends and family and also our local bartenders who are now dear friends and lifesavers.
And he is "with it." He can carry a conversation for a short bit without the other person catching on that something might be wrong. If things go awry, I tell people why. And, maybe not so fortunately, he knows who the U. S. president is and can expound on theories on why "that man" shouldn't be president.
So, to others he seems "fine." It's what's invisible that sometimes makes my life more heart breaking. I visibly see him struggling to follow conversations, to follow movie plots and to understand what people are saying. He desperately needs a lot of attention, affection and reassurance.
Alzheimer's is a terminal disease and on average from diagnosis to death is 8-10 years. He is defying those odds spectacularly. For that, I'm grateful.
I am photographing this journey.
-
-
Paradise is represented by Alden Gallery in Provincetown, MA
and Galatea Gallery in Boston, MA
-
Artwork available for purchase at Galatea Fine Arts ARTSY